By Cody J – B.O.C. June 27th 2019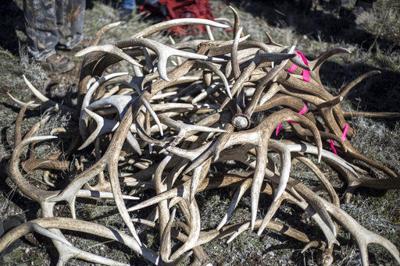 From The Billings gazette:
Joshua Anders Rae, formerly of Jackson, Wyoming, pleaded guilty to illegally possessing and transporting 104 pounds of unlawfully taken elk antlers recently, according to a U.S. Fish and Wildlife Service press release.
Through a plea deal with the U.S. Attorney's Office, Rae was sentenced to five years of unsupervised probation; a five year ban from the National Elk Refuge and Grand Teton and Yellowstone national parks; $15,000 in restitution to the Wyoming Game and Fish Department; and a loss of hunting privileges worldwide for five years.
Rae is the owner of the Great American Antler Co., which sells antler pieces as dog chews. After a joint investigation between the U.S. Fish and Wildlife Service, U.S. Forest Service and Wyoming Game and Fish Department, law enforcement officers determined Rae had been unlawfully entering the National Elk Refuge and the Bridger-Teton National Forest during the elk's overwintering season.
Deer, elk and moose winter in many areas surrounding Jackson Hole every year. These areas are closed to public access from Jan. 1 to April 30 to minimize stress on wildlife populations during harsh Wyoming winters. On May 1, when most wintering wildlife populations have moved to spring and summer ranges, these areas are opened to the public, who are allowed to collect shed antlers with the proper permits.
In April 2016, officers were alerted to unknown people unlawfully entering the National Elk Refuge and Bridger-Teton National Forest. When officers arrived, they discovered a hidden cache of freshly cut elk antlers that were cut into various sizes and buried in the ground. They subsequently searched other areas and found more than 15 caches of elk antlers that had been cut and hidden in a similar fashion.
Officers began surveilling the caches on May 1 when antler collection was opened to the public. On June 2, 2016, they stopped a truck pulling a horse trailer as it was leaving the Bridger-Teton National Forest. The driver was Rae. Officers found 104 pounds of cut elk antlers inside his stock panniers that were determined to be from the hidden caches. Officers later collected antlers from the remaining cache sites, which weighed an additional 410 pounds.
Hey Joshua. I get it, you need product to provide to your customers. Supply & Demand. Simple economics. Yada Yada Yada… Buutttt you have to think you'd eventually get caught.. You're not even supposed to be in the Parks at that time let alone taking sheds.. hundreds of pounds worth. So next time if you're still in the the dog chew antler business, maybe just wait until you're allowed to go in there, and you wont have such a problem.. or maybe head to some public or private lands where you can have access earlier. I don't know just a tip. Good Luck!